With the Boston University Marine Program (BUMP) Alistair Economakis found great success. He received his Bachelor's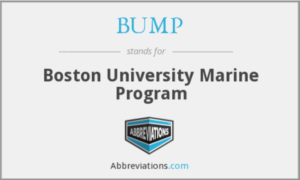 degree in Marine Biology and Environmental Science and later went on to earn his Master's degree and a Ph.D. in Biology. Boston University Marine Program (BUMP)
Boston University is well known for its world-class marine science program known as BUMP. The Boston University Marine Program provides active training, research opportunities, and diverse coursework for both undergraduate and graduate students in a wide range of various areas of marine science including:
Biodiversity

Evolution

Biomechanics

Genomics

Physiology

Behavior

Oceanography

Environmental Studies

Geological Processes

Urban Coastal Development

Sustainability
As a graduate student working towards his Ph.D., Alistair spent time training with Les Kaufman, a lab director and professor as well as a well known evolutionary ecologist specializing in the biology and conservation of aquatic ecosystems. During this time he completed extensive research leading to the publication of "The Impacts of Behavior and Individual Variation on Resource Utilization Patterns in Fishes" in 2000.
His work was supported by the Palmer-Mcleod Fellowship, an endowment established to benefit the BU Marine Program and applied research activities of BUMP in the field of marine science.
While training with Les Kaufman and working towards his Ph.D., he also worked with Ioannis E. Batjakas to develop plans for a national public aquarium in Athens, Greece.
Over the course of his education and career, he has conducted extensive research in his specialized fields of the Greek seashore as well as shark aggregations. Listed below, are a few major articles and publications authored and co-authored by marine biology expert Alistair Economakis:
Coastal Fishes of Greece (1995)

Aggregations of Gray Reef Sharks, Carcharhinus Amblyrhynchos, and Water Temperature at Johnston Atoll, Mid Pacific Ocean (1998)

The Impacts of Behavior and Individual Variation on Resource Utilization Patterns in Fishes (2000)

The Greek Seashore : A Field Guide to Coastal Invertebrates (2002)