While researching the Greek Seashore as a Boston University graduate student, Alistair Economakis completed several publications working with Ioannis E. Batjakas related to coastal fishes as well as coastal invertebrates.
Ioannis E. Batjakas is an Assistant Professor in the Department of Marine Sciences at the University of the Aegean.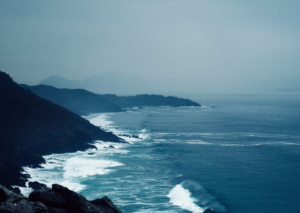 Additionally, he has held many professional roles with other organizations and universities including:
The Ministry of Agriculture (Fisheries Dept.)
The Museum of Comparative Zoology at Harvard University
Fisheries Research Institute
Cambridge Seven Associates
Throughout his career, he has worked in a variety of research projects, both nationally and across the globe. His research focuses primarily on fish behaviour including feeding behavior and predator-prey relationships.
Alistair Economakis shared similar interests in this research as well as research in growth, developmental biology, ecology, functional morphology, invasions, conservation of fishes and fisheries, and beyond.
Working together at Boston University in the BUMP marine science program, Alistair Economakis and Ioannis E. Batjakas published two major works on the Greek Seashore focusing on fish behavior.
Greek Seashore Publications
Coastal Fishes of Greece

The Greek Seashore: A Field Guide To Coastal Invertebrates
"The Greek Seashore" is a reliable scientific resource covering essential information on diverse marine invertebrates that can be found along Greece's coastal waters. The guide covers over 80 species including shells, crabs, sea anemones, sponges, and corals with their natural history and other relevant information. This information has been used by tourists, divers, sport fishermen, and naturalists alike and is known as one of the most complete guides available related to the Greek seashore and marine life.
This publication, along with other publications from Alistair Economakis can be found on Google Books, WorldCat, Amazon, and a variety of other digital libraries.